"There is Such a Thing" Cd Now Available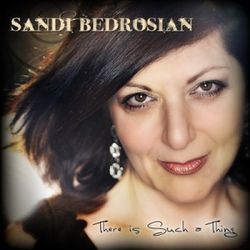 Oh yeah, "There is Such a Thing" and it's Sandi Bedrosian's extraordinary new album! This up close and personal collection invites you to a time where classic swing, jazz and poetic ballads collide. The record reveals an intimate look at timeless musical gems, breathing new life into them without missing a beat.

The title track There is Such a Thing, as well as, her other other originals, One Deuce of a Romance and Funny Little Corner of the World, bring you back in step with romantic endearments.

Bobby Caldwell's Heart of Mine, originally recorded by Boz Scaggs is the story of a broken heart. Bedrosian's version embraces the soul of a woman whose heart has been torn apart by lost love. Immediately you feel the honesty.
Along with her stellar team of musicians, including her accordionist John Hyde, pianist/ arranger Mark Shilansky and Roomful of Blues' saxophonist Mark Early, Sandi B has discovered a fresh way to deliver the genuine article. The chanteuse says, "this music is inclined toward the feeling of excitement and mystery associated with love"!
Buy now at CDBaby!!
Now Available on Itunes!